Tap and Flash
Master math, vocabulary, and geography skills in record time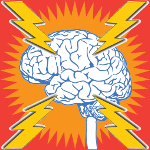 Master math, vocabulary, and geography skills in record time with Tap and Flash! Focus on core memorization with minimal time investment. Optimize your study time with simple and refined flash cards.
Are you still counting on your fingers? Do you have enough time to finish your tests? Use Tap and Flash every day for five minutes and experience life altering changes. Burning multiplication, division, addition, and subtraction computations into your brain is essential. You will use these skills throughout your academic, professional, and personal life.
There are thousands of words in the English language. Which ones do you need to know? Tap and Flash has the answers! Try our vocabulary flash cards with Tier 2 Common Core words. These are words that span many different fields. Tier 2 words are common in written material that students will encounter. Each grade introduces more complexity, so it is crucial to have a strong vocabulary base. Once these Tier 2 words are memorized, you can use them in your own writing for more precise sentences.
Do you know all of the U.S. states and capitals? The geography section contains flash cards for the 50 states with each state highlighted for visual association.
The app counts the time spent on each question/answer card and shows the results at the end. You can sort your results by fastest or slowest times to see where you need to improve.
To create the perfect mood for memorizing Tap and Flash content be sure to use smart LED bulbs set to the concentrate color. Get the latest Philips HomeKit v2.0 Hue bridge to get started. Use the Hue Lights app to control the lights with your iPhone or Apple Watch!

Questions? Check out our Frequently Asked Questions section. Why try Tap and Flash?
Screenshots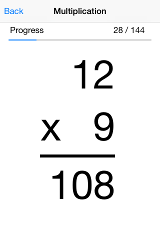 Multiplication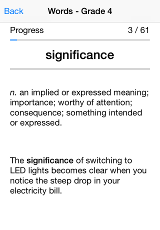 4th Grade Word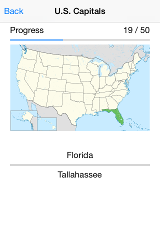 Florida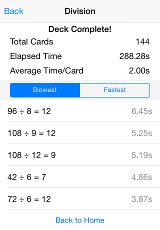 Summary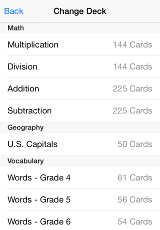 Decks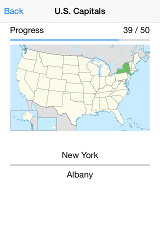 New York
Division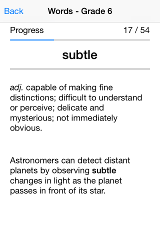 6th Grade Word